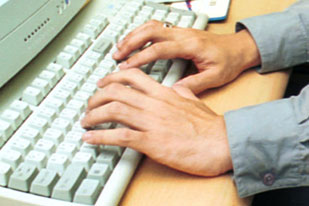 (De AlJazeera English, 26.01.07)

North Korea hits out at web censors
North Korea has lashed out at the South Korean government for what it calls the "fascist action" of blocking public access to websites sympathetic to the North.

South Korea has denied access to more than 30 websites that it deems "pro-North Korea" since 2004, including the Japan-based website of the official KCNA news agency's web service.
"This is a fascist action against democracy and human rights as it infringes upon the South Koreans' freedom of speech and deprives them of even their right to enjoy the civilisation offered by the IT age," the North's official Rodong Sinmun newspaper said in a commentary on Friday.
The paper, quoted by KCNA Rodong Sinmun said the "actions are as rude as blindfolding people's eyes and stopping their ears and mouths".
The ban showed South Korea was against reconciliation with the North, the newspaper added.
South Korea's unification ministry said this month that it had no plans to lift the ban.
North Korea is one of the few countries to be virtually completely cut off from the internet, with just a few thousand carefully vetted individuals allowed access.
Kim Jong-il and other senior members of the government are said to be online via connections to China.
In contrast South Korea is one of the world's most wired countries, with three-quarters of the population having access to the internet.
Ésta es una de esas contradicciones de las que habla Manuel Castells en su estupendo estudio "La era de la información: vol. I: La sociedad Red". Una contradicción que no se resuelve sólo con adelantos técnicos porque no ha surgido sólo de dificultades técnicas. Tampoco se trata de una "mera" cuestión ideológica. El papel de la política se vela y se desvela una y otra vez a uno y otro lado de las pantallas...